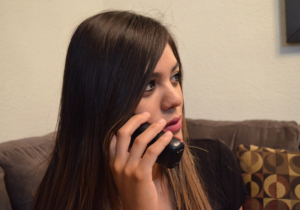 NHS EMERGE 

16–17 CMHT is a community based multidisciplinary team offering mental health services ina community setting, Monday to Friday. The team offers young person centred holistic,assessments and provides a range of therapeutic individual and group work interventions.Based on a multi-disciplinary community mental health service model, the service is provided by the Manchester Team based at the Powerhouse and can support with:
---
Anxiety, Fears and phobias, Obsessive compulsive behaviours, Difficulties expressing and containing emotions, Depression / low mood, Self-harm, Suicidal thought, Eating distress, Difficulties forming and sustaining relationships, Dual (drugs / alcohol & mental health)problems, Identity concerns (including LBGQT), Attention Deficit Hyperactivity Disorder, Autistic Spectrum Disorders, Issues related to unresolved trauma
Career connect (Career advice)
Manchester Young Lives and study centre (16-18)
Powerhouse library
Sale Sharks
Streetleague
CAREER CONNECT
The service aims to offer support into education, employment and training for young people (aged 15-18 unless stated) who are:
Young carers (11-18)
Young people with SEND (up to 25)
Care Leavers (up to 25) and looked after children
Young people supervised by Youth Justice Teams
Teenage parents and pregnant teenagers
Young people who are at risk of becoming long term NEET
In Year 11 transition
The teams can be contacted for advice and referrals by emailing eet@careerconnect.org.uk or by telephoning 0800 0126 606.
---




MYL (Manchester Young Lives)
Manchester Young Lives is a registered charity that has been working with children and young people in some of the most disadvantaged areas of Manchester for nearly 50 years.
Our work was originally centred on the development and management of adventure playgrounds in Ardwick, Moss Side, Hulme, and Wythenshawe. In recent years we have successfully developed a number of youth work and educational/training programmes, particularly targeted at children and young people at risk of social exclusion. The culmination of these efforts was the establishment of Manchester Young Lives Independent School in 2010.
We believe the integration of play, confidence building, and education within an informal and supportive environment provides a genuine opportunity for early intervention with children and young people who are at risk of falling outside mainstream services and becoming involved in anti-social and risky behaviours."
Our Employability Skills Programme draws on individual's knowledge and experience, allowing us to provide stimulating preparation and individualised personal development programmes, suitable for young people of all abilities. The programme has been delivered for the last 2 years at the Moss Side Millennium Powerhouse where it has proved particularly successful as a foundation experience for young people requiring more intensive preparation, in order to achieve success in a work environment.
As the programme is unique and tailored to suit the needs of the individuals, we provide a highly experienced, motivated and committed trainer and her team, to deliver this programme. The taught elements to the programme exclusively focus on positive reinforcement, set within a context of employability skills and attitudes. The monitoring and work placement opportunities further develop and support these skills enabling many young people to make successful entry into the world of work and training such as apprenticeships, work based training and Further Education.
---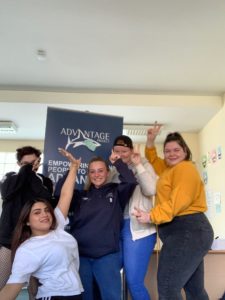 SALE SHARKS
Advantage – Has a key focus on NEET learners, taking them through the core aims and back into
Education, training or onto employment with a creative and nurturing approach to our delivery and care.
---
POWERHOUSE LIBRARY
Is one of the country's only dedicated youth libraries, with session from 3-7pm dedicated to young people aged 24 and under. They receive support with everything from finding study guides to how to log into and play online platform games in a safe comfortable space with their friends. The library manager visits local schools to promote the offer.
Craft sessions take place through the year, and especially during the summer months.
With the help of MMU they have two homework sessions per week during term
time that have an average attendance of over 100 children per month.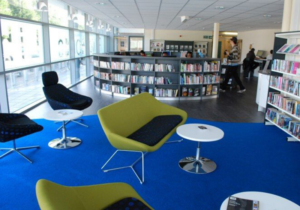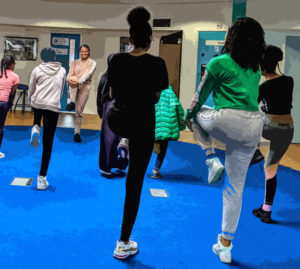 ODD ARTS
Provide activities of creative mediums such as Drama, Music Creation, Art, Poetry and the Spoken Word.  All projects encourage young people to be expressive, learn new skills, build confidence and showcase their creations.
---
KYSO
We are a Music and Performing Art Agency based in Mosside, Manchester. Our members consist of young people aged 13 – 21 who are singers, music artist, contemporary dancers, DJs and many more Read more
---
BRINK
Dance for children and young people.
---
Z-ARTS
Add a great offer to our Friday night 'Youthy' sessions. Arts Carousel gives young people the opportunity to try lots of different Arts and crafts including, music and mosaics.
---
Other
'Youthy' (Young activities in partnership with KYSO) 
Open access youth club for 12-18-year olds. Sports, games, dance, music, art and debate. Everyone welcome.
---
FBB (Football Beyond Borders)
Working with schools with children at risk of exclusion using unique sports programmes.
Read more their website:
---
YOUTH EMPOWERMENT
The age of transition Junior Youth Spiritual Empowerment Programme (11 – 15 year olds)
Trained "animators" or mentors facilitate groups for this special, burgeoning energies and particular needs. 
A curriculum of stories and exercises present universal, spiritual themes eg. hope, justice, love, honesty etc. providing a space for junior youth to discuss concepts that empower positive choices for their lives and that of their families and communities. Intellectual capacities are enhanced as they develop their powers of thought and expression.
Another key component of the programme is the planning and implementation of neighbourhood service projects. Groups are encouraged to evaluate the needs of their community and consider how their actions may contribute to its improvement. Service projects can start simply and develop in complexity e.g. a one-off litter pick in the local park, periodic visits to share 'support packages' with a homeless shelter or the organisation of neighbourhood family festivals.
Artistic and creative activities draw out the talents and capacities of the junior youth and recreational activities are crucial to the release of their increasing physical energies.
Multi-sports (Ages 13 – 19 )DMSF
Multi-sports (Ages 8 – 12) DMSF

Netball
Football
Basket ball
---
SALE UNITED POWERCHAIR FOOTBALL
Specialist football for young people in a power assisted chair. Practice at the Powerhouse on Thursdays and Saturdays.